By Michelle Payer
It seems some of the best summer memories are made under the sun amidst swaying palms and warm ocean breezes, where bronzed skin mixes with endless laughter. Setting aside phones to be 100 percent in the moment is a rare occasion for families to reconnect, and it's at Acqualina's interactive Acqua Experiences that curated activities are designed for maximum togetherness. Within the pool, teens and adults glide through the water with synchronized and monofin swimming during AquaMermaid, Learn to Swim and Learn to Scuba sessions, while children ages two to seven can channel Ariel and "Swim with a Mermaid." Contact the Concierge at 305.918.6860 for more information and reservations.
Painting Experience
With the Atlantic Ocean as a muse, a new generation of Picassos are nurtured during Acqualina's al fresco Painting Experience with instructor Haena Chen Biton or one of her South Florida-based artists. In just two hours, participants' minds are freed as they learn how to sketch, mix acrylic paints, create depth and effects with paint brushes, and explore color on an 11 x 17 canvas. For those intimidated by the art form, Biton says the experience is positive and liberating. "It's important for people to break that fear of painting and realize that it's possible. We don't realize how capable we are with a little bit of guidance," she says. "There are so many breakthrough moments during these painting classes where people realize they are so much more than they ever thought they could be, and it happens while bonding with family, which makes it even more meaningful," says Biton. "We celebrate the individuality of each person. If I'm authentic to who I am, if I celebrate myself, that's the most important thing." Beginning on Sunday, July 11, Each 1.5- to 2-hour Painting Experience is $45 per person, Sundays at 11 a.m. and 1 p.m. on the North Lawn. Reservations are essential and may be made through the concierge.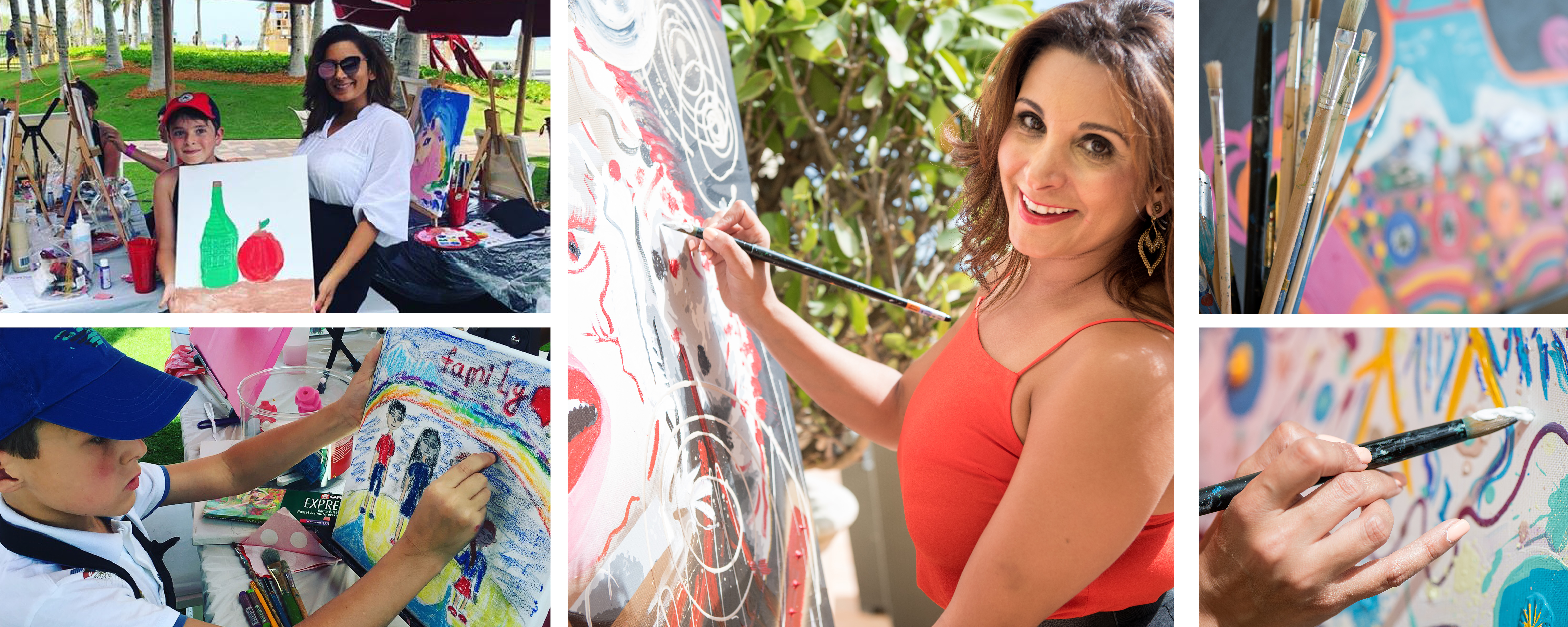 Photoshoots With Pipe
It's inevitable on vacation that one family member chronicles the trip; the chance group picture is usually staged, awkwardly taken by a passerby, one and done. If there's ever a year to break the mold, celebrate family and capture some candid, expressive moments, this is it. Resident photographer Pipe Yanguas, a graduate of Milan's Istituto Europeo di Design, is a "Photobiographer," and approaches photo sessions around the Acqualina property – or off-site — by capturing a family's joy, their essence, their mutual love and their passion authentically and in the moment. "To me, it's all about being able to photograph the true emotion and laughter of the moment, using natural lighting. I guide them subtly with the lighting, but not with their actions," says Yanguas, who photographs families as they are walking through Acqualina's lush gardens and Italian-inspired architecture to an undiscovered corner or hidden nook. "It may not be a special spot, but we turn it into a special spot, as long as it flows," says Yanguas, who says his favorite locales are the resort's red couches, the stairs leading to the pool, the hammock, life-sized chess set, palm trees, the pools and kids playing in the sand, building sandcastles and splashing in the ocean with their parents, and says he discovers new areas during every shoot.  Inquire with the concierge about reservations, packages and pricing.