Ke-uH is making a grand entrance in Acqualina Resort & Residences with an official opening on January 4, 2021 offering creative Japanese fusion cuisine to hotel guests, residents and the Miami community. The new restaurant complements Acqualina's Costa Grill and Il Mulino New York restaurants.
Ke-uH at Acqualina features a diverse and eclectic menu of tapas and shareable plates in an elegant and modern setting that includes indoor seating in a beautiful dining room and outdoor seating on an expansive terrace overlooking the Atlantic Ocean.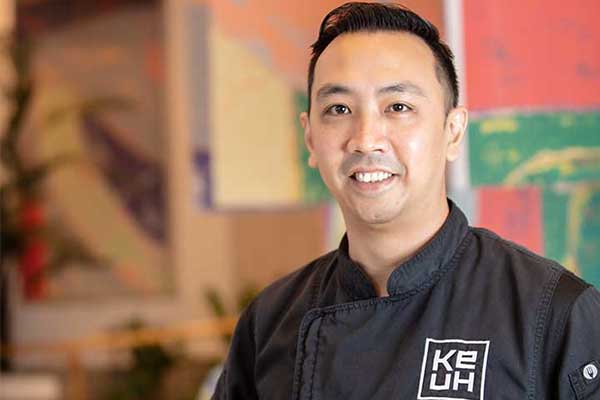 Peruvian born of Japanese descent, Chef Oscar Noborikawa will lead the Ke-uH culinary team. Chef Oscar has been living in South Florida for over 20 years and spent 14 years working at Nobu Miami perfecting his art under the disciplined tutelage of some of the country's most revered Japanese masters. He has traveled to culinary events around the world in Singapore, Malaysia, Sao Paulo, New York, Las Vegas and Los Angeles.
Chef Oscar's command of Japanese cuisine can be distilled down to ingredients and balance. He works with trusted purveyors to import Japanese Hamachi yellowtail, Uni sea urchin, octopus and sweet shrimp, Scottish salmon, Yellowfin and Bigeye tuna from Central and South America and Bluefin tuna from the Mediterranean Sea.
In a recent interview for AcquaTalks Online for The Estates at Acqualina, we talked with Chef Oscar about the new Ke-uH in Sunny Isles Beach.
What ingredients and flavors are you most excited about sharing?
Yuzu soy, truffle flavors, every single dish is different. Our Pork Buns sous vide are cooked for 12 hours. Every single dish, we put a lot of work in it. The Spicy Honey Shrimp is the most popular with our special jalapeno aioli. I think guests at Acqualina will love the Bea roll with crispy shrimp, fried plantain, avocado and cream cheese.
Tell us about the sushi.
It is very important when making sushi that you use quality fish. We work with one of the best Japanese companies who bring fish from Japan – it's the same company that I worked with while at Nobu. We bring Toro, tuna belly and the best quality for all the ingredients in our sushi. Flying fish in from Japan, takes 48 hours. The company we work with has been doing this for more than two decades. They select the fish in Japan. Even the fisherman, the way they handle the fish makes a difference. For sushi, the Atlantic Ocean here is too hot and it's not the best. It's not the same Mackerel here as in the Pacific, which has more flavor.

What makes your sushi so creative?
It's a BALANCE in every single bite. Some places – there is too much rice or too much protein. For me, every single bite has to be a perfect balance for all seven + ingredients. It's the combination of the quality of product, the preparation – they have to do it right; know what they are doing; have a good balance. Every dish on the menu we endeavor to have a perfect balance for spiciness, sauce, everything. It's the respect for every single product, the discipline, how to take care of and manipulate the ingredients.
Will you have options for children? How about for vegetarians?
Yes, many children like the skewers and fried rice. We will also have a variety of vegetarian and gluten free options. Avocado crispy rice is a favorite of vegans.
Anything else you would like to share with us.
We are so happy to be in Sunny Isles Beach and at Acqualina. Our team at Ke-uH will bring an exciting culinary experience for family and friends to enjoy together at the beautiful Acqualina Resort.
Please click here to learn more, view the restaurant's menu or make a dinner reservation.