Whatever the country, nationality or era, most everyone can recall "breakfast is the most important meal of the day" shared as an important nugget of wisdom in our collective youths. Il Mulino's Chef Michele Mazza agrees.
By Michelle Payer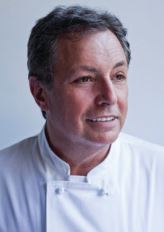 While Acqualina's Il Mulino New York restaurant may be famed for its Sunday Brunch and romantic dinners with waiters serving authentic Italian cuisine under the stars, the action and attention to detail starts at sunrise. Early every morning, a culinary team descends on Chef Michele Mazza's kitchen to create his European/American breakfast menu. The team squeezes fresh papaya, orange, beet, pineapple and carrot juices, selects organic eggs, prosciutto and European cheeses and chooses vegetables from fresh local farms.
"Breakfast sets the tone for the entire day," says Mazza. "I believe breakfast should be clean, started with fresh juice, maybe parsley or pineapple juice with cucumber or celery, toast topped with smoked salmon and poached eggs," he continues, explaining that Il Mulino has myriad artisan bread options, including gluten-free and vegan to satisfy an international clientele, plus cereals for children.
One of Mazza's favorite menu items is pancakes with fresh ricotta cheese and lemon zest, all prepared a-la-minute.  From the Omelette dello Chef to Formaggi and Salumi Misti, the entire breakfast menu is made and served-to-order-daily from 7 to 11 a.m.
Mazza, who is at Acqualina during the winter season, says that you'll recognize many of the servers from their years at Acqualina, some who have been with Il Mulino since its opening. "We feel like family," he says, "and that's how we welcome our guests at breakfast, we get to know them over time and do our utmost to provide beautiful service as if they were guests in our own home."
How does the Italian chef start his day? Fresh-squeezed orange juice, two organic eggs over easy, burrata mozzarella and gluten-free toast. "I feel more energy with a gluten-free breakfast," he says. "And if you have a good breakfast, it makes you happy all day."
Here's to happiness in 2022.