By Michelle Payer
With its oceanfront setting and natural privacy, Costa Grill is one of Miami's most sought-after dining destinations. Only Acqualina guests, residents and Beach Club members can dine under a canopy of red umbrellas, sip natural elixir from branded coconuts and soon savor Head Chef Enrique Villardefranco's revitalized Floridian menu with Mediterranean influences.
From Ahi Tuna Carpaccio with watercress salad, caper berries and a citrus ginger vinaigrette to local mangrove honey and Adobo-marinated Mahi Mahi tacos with cabbage slaw, Cotija cheese and chipotle salsa, the combination of flavors comes from fresh ingredients and often the chef's personal recipes.
"The Ahi tuna and Mahi Mahi are caught fresh every morning," says Villardefrancos, "then we combine 'Floridian' flavors like the guava barbecue sauce for the chicken wings," he says, "and I use a special personal recipe in the shrimp cocktail's Island Cocktail Sauce with just a dash of Caribbean white rum to make it exciting."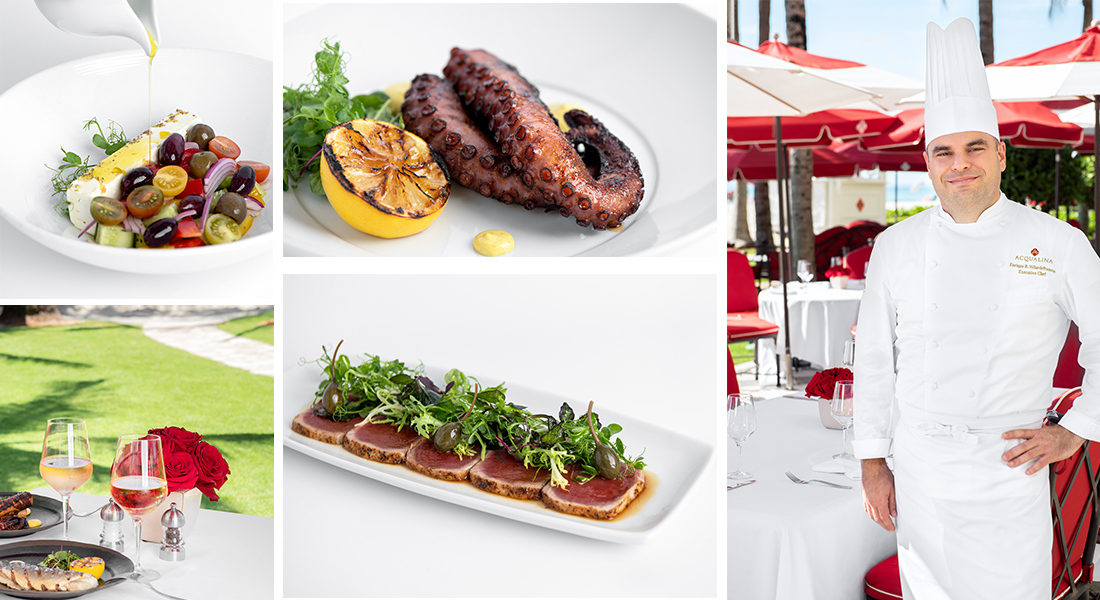 Another personal recipe is the Costa Aioli that accompanies Villardefranco's favorite dish: Grilled Octopus, one he is most excited for guests to try. "We use a sous vide technique and cook the octopus at 180 degrees for four hours," explains Villardefrancos, "it's then marinated with Spanish smoked paprika and grilled, before being served with my special Costa Aioli recipe that's a mixture of Florida honey, fresh cilantro, mustard and curry for a sensational flavor combination," he says.
Having cooked for 2000 vegans as Corporate Executive Chef aboard an international cruise line, Villardefrancos is an expert in flavorful cuisine for varied palates and dietary preferences. His Ortolana pizza with its cauliflower crust, balsamic glazed roasted vegetables and kale uses vegan mozzarella and "is 100 percent vegan," according to Villardefrancos, while the beautifully presented Whole Roasted Chipotle Cauliflower rests in a vegan, coconut-based peppery dill ranch cream base.
The new menu includes four delectable salads, from the Sunny Isles with hearts of palm, black quinoa, Driscoll strawberries, cherry tomatoes and baby kale in a Tuscan vinaigrette to a fresh Niçoise and traditional Caesar and Greek selections. Optional fresh protein additions include seared salmon, grilled shrimp, albacore tuna and chicken.
Traditional favorites include Margherita and pepperoni pizzas, tuna salad sandwich, a catch of the day and The Acqua Burger, with eight-ounces of Wagyu beef accompanied by mushroom duxelles, Brie cheese, Boston lettuce, tomato and grilled onion – with a plant-based vegan option available.
Children continue to be presented with their own menu, including cheese quesadilla, tuna sandwich and macaroni and cheese, served with choice of house salad, fries or diced fruit.