By Angela Caraway-Carlton
Those dreaming of an idyllic destination wedding will find everything they wish in South Florida, and Acqualina Resort is the picture-perfect place to say, "I do." Tucked away in Sunny Isles Beach, just 20 minutes from the action of South Beach, our dreamy enclave is edged by the clear-blue ocean, lined with scallop-white sand, and dotted with towering palm trees, which serves as a spectacular backdrop for a wedding. Destination weddings are Acqualina's forte, with exquisite spaces befitting of parties ranging from 60 to 70 guests, and the ability to showcase the best of South Florida.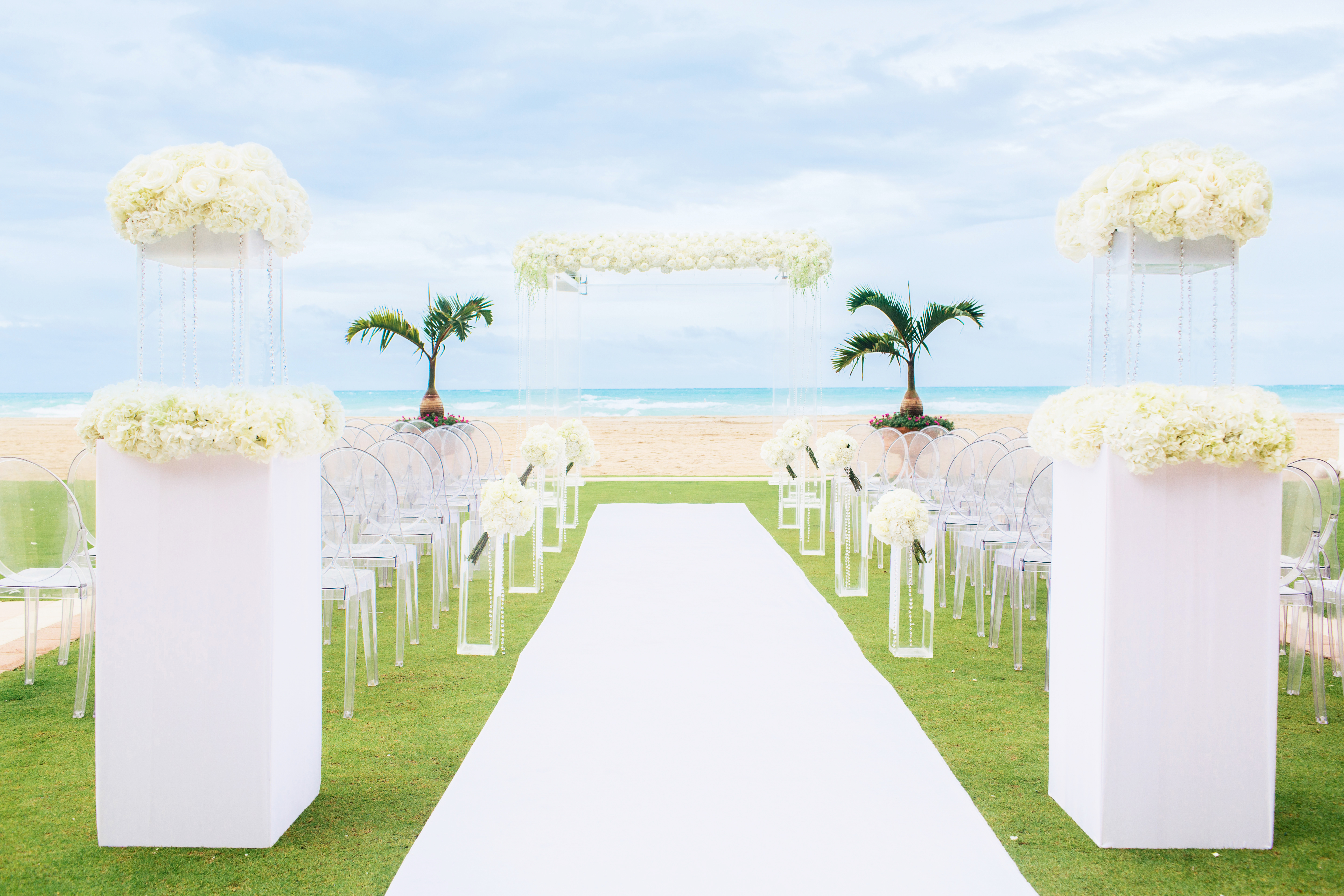 Wedding planner Elizabeth Saladrigas, owner of Elizabeth Sofia Creations in Miami, recently planned a destination wedding at Acqualina for a couple hailing from Arizona who wanted to swap the dry desert for a quintessential beach wedding. "They wanted a beach experience at a destination that was fun, yet elegant. Acqualina Resort fronts of one of the best beaches in South Florida, with many options to host everything from the ceremony to the reception," says Saladrigas, who helped plan the intimate wedding in less than two months. "Acqualina's staff made everything so easy and seamless, and the wedding was perfection."
Saladrigas points out that Acqualina presents the opportunity to have a beach wedding without the hassle of applying and paying for a permit; and because the semi-private beach is not a highly trafficked area, a couple's wedding photos on the beach are usually free of crowds. While many ocean-fronting hotels are located far from the water, or guests have to trudge through the sand for the ceremony, Acqualina's Front Lawn offers a stable, sand-free space and a front-row seat to the ocean. Another perk: the resort's many indoor and outdoor spaces offer a continuous flow. "It's easy for guests to move from the ceremony to cocktail hour to the reception," says Saladrigas. "Also, any couple considering an outdoor wedding should have a backup plan that makes them equally happy. Acqualina offers equally fabulous indoor options, in case the weather doesn't cooperate."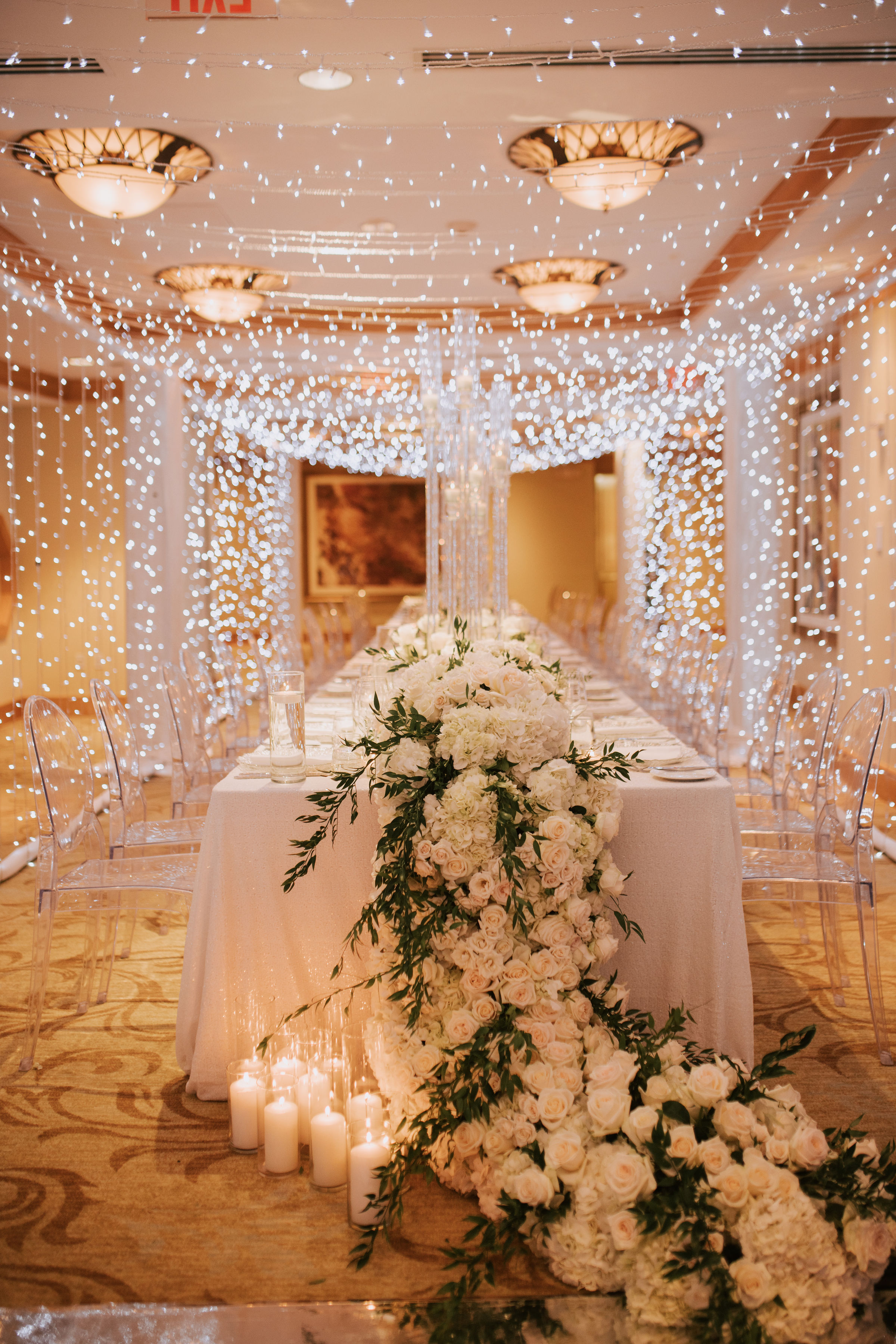 Saladrigas partnered with Acqualina to plan an intimate affair for the Arizona couple that began with a ceremony on the resort's picturesque Front Lawn that directly faces the ocean; a breezy cocktail hour on the dunes surrounded by palm trees; and ended with dinner and dancing in the elegant Mediterranean room. "With Acqualina's beach backdrop, you don't need much. The scenery does the decorating for you," says Saladrigas. "If couples choose the Mediterranean room, it's a blank canvas to create whatever theme and look you desire."
When it comes to creating an itinerary for the destination wedding, Acqualina has everything a wedding party could desire on and off the property. "They have a concierge that's in the know of the best places in the area," says Saladrigas. "They can arrange transportation for the wedding party and book everything from a night at a club to shopping or cultural experiences." Saladrigas also points out that guests never have to leave the property thanks to Acqualina's numerous spaces fitting of relaxation and activity. "This recent wedding party enjoyed a gals' spa day together, while the groom had an outdoor pool and beach day.  It was like a vacation for everyone, and they were able to experience the best of what Miami has to offer in Sunny Isles Beach." A destination worthy of creating forever memories.