Blending natural beauty with elegant Mediterranean design, Acqualina Resort sets the stage for world-class weddings on the edge of the Atlantic Ocean. With four and a half beachfront acres and multiple venues, there are endless possibilities for every couple's style and preference.
"We have a beautiful backdrop for weddings," says Catering Manager Jessica Roldan, who helps brides and grooms bring their visions to life on Sunny Isles Beach. "We host one wedding at a time, so it's very private. It's elegance on the beach."
After meeting a couple, Roldan loves taking a concept from ideation to completion to make each wedding distinctly the couple's own – whether the focus is on a stunning ceremony, innovative cuisine, entertainment, or all of the above.
"It's really about personality and how much time they have," she says. "Acqualina is a place to do something very simple and elegant or something elaborate with a lot of production."
In the past year, Roldan has coordinated many memorable weddings along Acqualina's 400 feet of shoreline. To inspire those considering a wedding in South Florida, here are two that particularly stand out:
Intimate Luxury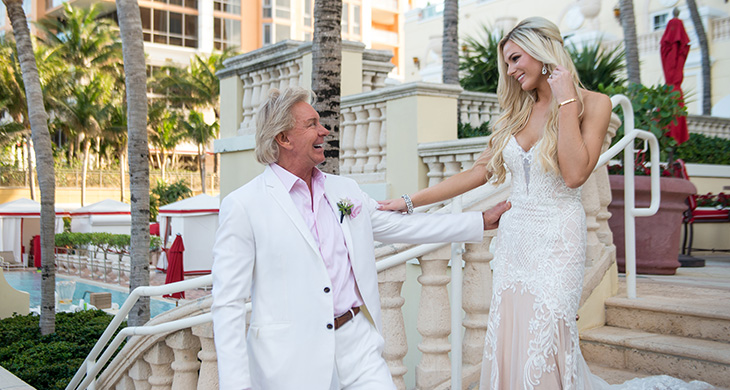 Photo: Suzanne Delaware
Just because you are having a small wedding doesn't mean you should keep things simple. When this couple decided to say their vows on Sunny Isles Beach in April, they chose to have the lavish wedding of their dreams while keeping the guestlist to an intimate 14.
The ceremony took place on the quintessential Front Lawn, one of Acqualina's four signature settings, just steps from the sand. With a sweeping Atlantic backdrop, the bride and groom said "I do" under an arbor draped in greenery and pink florals. Surrounding them, a semicircle of family to witness the special moment.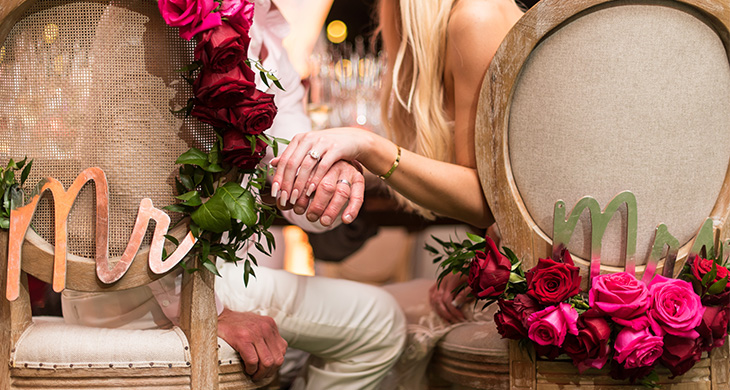 Photo: Suzanne Delaware
The cocktail hour and reception took place on the nearby Great Lawn, with the reception dinner held under a tent with a long, royal table and elegant pink and red décor. The focus was on enjoying a once-in-a-lifetime evening with family.
"They had a beautiful dinner with everything that a big wedding would have," says Roldan. "This wedding was absolutely stunning and gorgeous."
A Party to Remember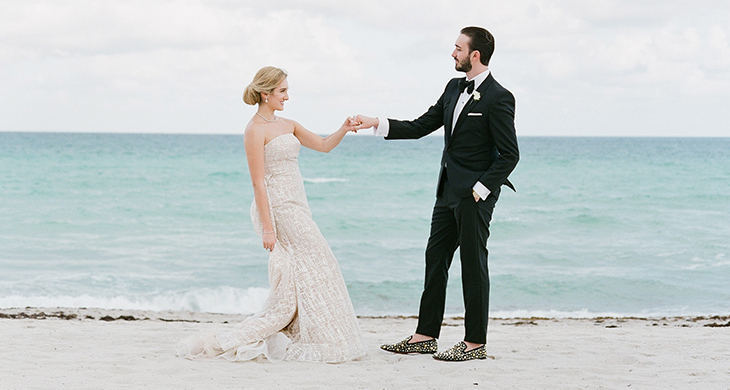 Photo: @ktmerry
On a beautiful November day at Acqualina, this couple tied the knot surrounded by 115 family members and friends. Throughout the celebrations, entertainment and cuisine took the spotlight from the rehearsal dinner the night before at Il Mulino New York to the post-wedding brunch the following day.
"This wedding had every type of entertainment you can imagine," says Roldan. "It was all about entertainment, about food. The couple were foodies. They wanted all the guests to enjoy little bites and have a wonderful culinary experience."
During the ceremony on the Front Lawn, a quartet played opera and instrumental music as the couple stood beneath a transparent arbor that showcased the panoramic ocean view.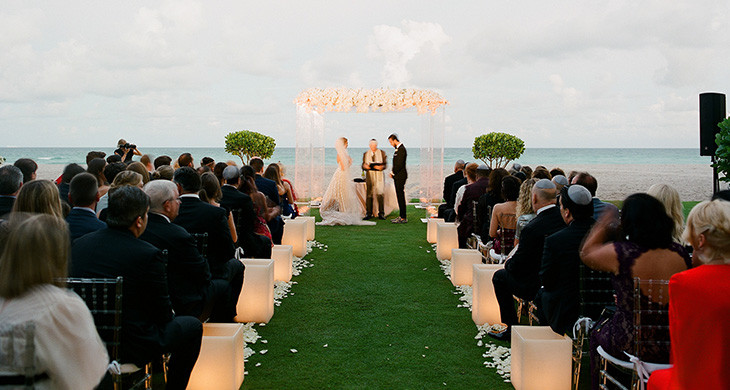 Photo: @ktmerry
A French duo performed at the cocktail hour on the Great Lawn, and in the nearby reception tent, a band took the stage during dinner. On the completely customized menu were Greek and Mediterranean fare representing the groom's rich heritage and bright Miami flavors in honor of the bride – all of which was coordinated with Executive Chef André Sattler prior to the big day. The couple opted for food stations instead of a plated dinner to create a comfortable, informal atmosphere for their guests.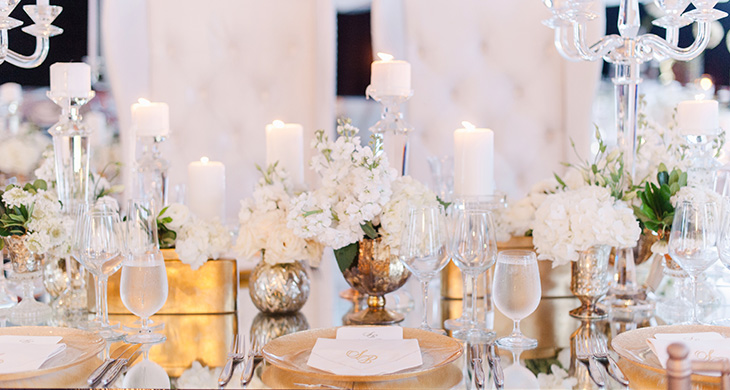 Photo: @ktmerry
After dinner and dancing, the celebration continued in the expansive Mediterranean Room, which had been transformed into a club-like setting with white and blue lights to set a winter scene. A DJ set the mood while guests enjoyed bites of comfort food.
Says Roldan, "They found that mix of luxurious and beautiful but still relaxed and fun on the beach."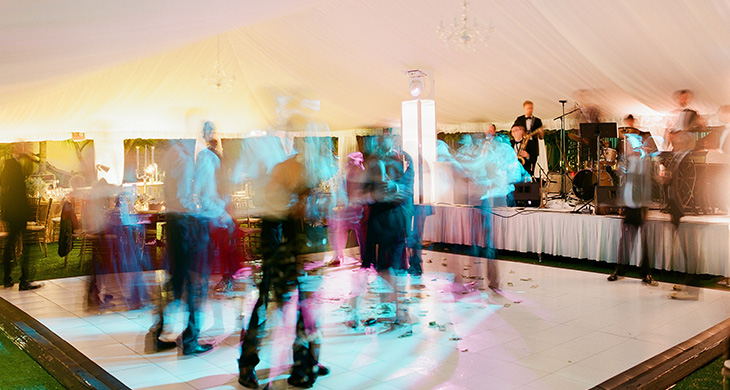 Photo: @ktmerry
To learn more about weddings at Acqualina, visit our Weddings page or contact Catering Manager Jessica Roldan at jessica.roldan@acqualina.com.
Featured Photo: Suzanne Delaware