Between the calming sounds of Atlantic waves, a rejuvenating five-star spa, and luxuriously appointed guestrooms and suites that lull you into a sound sleep, Acqualina Resort & Residences was practically made for wellness. So it's only fitting, then, that this oceanfront sanctuary offers the nutritional support to match. Introducing, the expertly curated Acqualina Diet.
Designed as the foundation for a healthy mind, body, and soul getaway, the Acqualina Diet offers a selection of thoughtfully crafted options on the Spa and Costa Grill menus to meet any dietary preference — or simply introduce you to a new way of healthy eating. Whether you follow a vegan, vegetarian, paleo, keto, or gluten-free plan, the diverse Acqualina Diet menu offers something for everyone (without sacrificing the elevated flavors that our gourmet dining destinations are known for).
"People [are] using food therapeutically for their health goals [more and more], whether it's a specific health condition they have or they just want to have more energy and feel better," says registered dietitian Staci Shacter, who collaborated with Acqualina to develop the philosophies and recipes behind the Acqualina Diet. "So, it was important to meet the needs of the modern culture wellness."
"We're trying to make vegetables fun and incorporated into as many opportunities as possible," adds Shacter. "People are eating fancier vegetables at home, so I wanted to create something that was taking that [concept] and also adding a level of luxury and fun flavors to it." This is particularly evident in the Ahi Tuna Poke Bowl, she says — rather than using regular rice, the base of the bowl is riced cauliflower, and it's topped with heaps of fresh vegetables and fish.
And, speaking of cauliflower, another one of Shacter's personal favorites is the Mediterranean-Style Rice Cauliflower with Shitake Mushrooms. "I'm excited about that because it plays on the Mediterranean cuisine that we focus on, and also, no one's doing riced cauliflower Mediterranean-style with these intricate flavor combinations," she says. "I feel like it's really unique and special in that sense. [Plus], we also are featuring shitake mushrooms because they're medicinal, so they have so many health-promoting properties than just regular mushrooms." For another cauliflower-based treat you can feel good about, there's also a cauliflower pizza topped with buffalo chicken and arugula available at Costa Grill.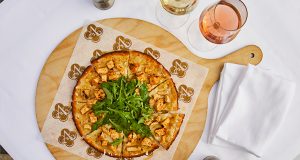 In addition, the menu features Sautéed Zucchini and Squash Noodles, a Burrata, Arugula, and Heirloom Tomato Salad, Charred Atlantic Salmon served on a bed of kale and quinoa salad, and a Greek Salad — another top pick of Shacter's. "It has olives, lemon, lemon zest, onions, garlic… it's just full of veggies and flavor with lots of Mediterranean infusion," she says. Plus, it's topped with Violife's decadent vegan feta for dairy-free diners.
While each menu item is unique in its own sense, each option shares a very important similarity: there are no refined oils, which are inflammatory to the body. "The only fats that we use on this menu are extra-virgin cold-pressed olive oil, avocado oil, and coconut oil," says Shacter. "That's something that really highlights wellness, because a lot of wellness menus out there look good on the outside, but they don't have the nuances to know that certain [seed] oils are really not that great for us." Using these healthier oils ensures that the menu truly reflects the roots of the Mediterranean diet, and goes hand-in-hand with Acqualina's unparalleled commitment to even the smallest details.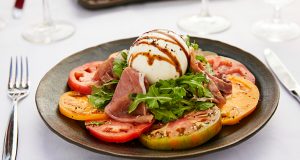 Beyond the dining menu, Acqualina also offers a healthier beverage menu, including low-calorie and low-carb cocktails and low-sugar wines. After all, part of overall health means enjoying the things that rejuvenate your soul — which might be enjoying a glass of high-end wine set to breathtaking ocean views.
In fact, these types of moments are enhanced by the Acqualina Diet — and these experiences maximize the effects of the Acqualina Diet, too.
They have a bi-directional relationship, explains Shacter. Consider this: spa services and luxurious experiences at Acqualina can be very soothing to the nervous system, plus, being on the beach has a very grounding effect. As it turns out, "our body can actually absorb and utilize nutrients better when our nervous system is in a calm and relaxed place," she says. "Plus, really good food can help calm our body and help us be in the right headspace for receiving these services [and experiences]."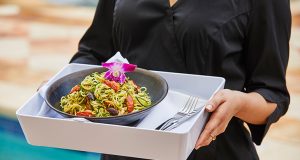 To harness the rejuvenating power of a nutrition-focused stay at Acqualina Resort & Residences, we invite guests to book their visit with our three-night Wellness Getaway package. Complete with luxurious accommodations, daily breakfast for two, four 50-minute body or facial treatments, a fitness session of your choice (yoga, Pilates or personal training), and of course, a complimentary spa lunch for two to sample the flavorful Acqualina Diet menu, there's never been a better time to book an Atlantic escape that's all about you and your wellness.