By Michelle Payer
For Spa Director Catherine Davalle to introduce new treatments to Acqualina Spa's award-winning repertoire, they must be effective, exclusive, luxurious and results-oriented to make the cut. From Cryo T-Shock body treatments to Hypervolt massages, every innovative treatment must serve a distinctive and valued purpose for discerning Acqualina guests.
With this in mind, Davalle introduced two new treatments: a Collagen Sculpting Facial (75-minutes, $425) and Ultimate Performance Facial (75-minutes, $445 or 90-minutes $520), using Swissline's foundation in cellular therapy and biotech innovation. With skin-identical ingredients including hyaluronic acid, pre- and pro-biotics and niacinamide, the facial products are 92 percent pure collagen and 97 percent identical to the skin's own collagen, making them extraordinarily effective in lifting and firming.  While some spas reverted to contact-less therapies during the pandemic, Davalle understood the demand and health benefits of physical touch in the much-lauded Acqualina Spa environment to combat the very real effects of "touch starvation."
"With these new treatments, I'm bringing back a more hands-on facial under the caring and expert touch of our talented estheticians to deliver lifting and firming results not attainable with a machine," explains Davalle. "These new facials combine the touch people are craving, with technology and science-based product and the efficacy of the massaging techniques and mask," she says. "The new Collagen Sculpting Facial delivers exactly what I intended to bring to our Spa menu. A signature lifting and firming facial massage, a deeply nourishing and restoring collagen sheet mask and a relaxing décolleté, arm and hand massage are combined with the Cell Shock products that are deeply rooted in biotechnology and innovation and feature a plant-based secret weapon called Cellactel 2 Complex," says Davalle. "Then there is collagen, the skin's most precious protein. The new Collagen Sculpting Facial is masterful at slowing the collagen breakdown caused by age and environmental factors. The 92% pure collagen sheet mask is amazing at lifting, hydrating and reducing the appearance of wrinkles. Combined with an original lifting and firming facial massage and the properties of the Cell Shock products, this facial leaves you rejuvenated and glowing," she says.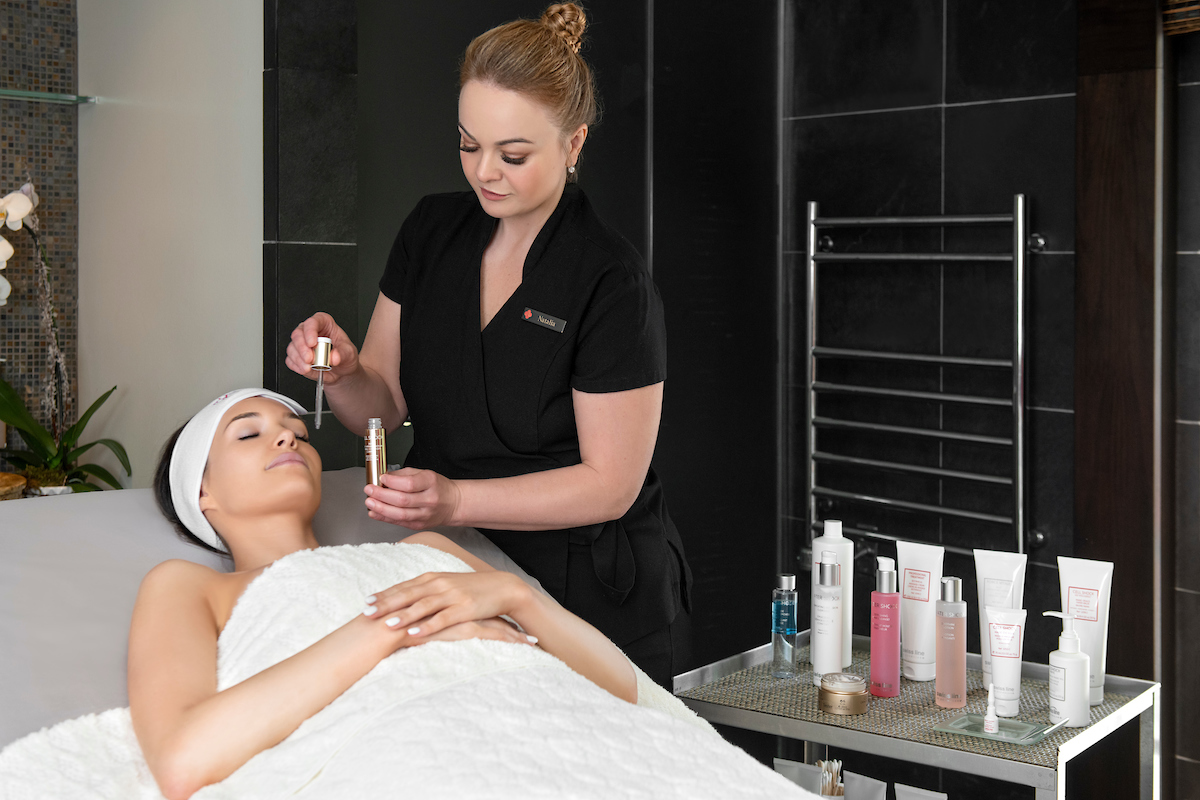 The Ultimate Performance Facial combines cashmere-textured creams with the Clinic Lémanic capsule collection that incudes regenerative medicine, moisturizer, eye serum and lifting mask, then adds the power of the Cryo T-Shock machine's lymphatic drainage to contour the face and combat puffiness, dark circles and fine lines.
Davalle says both facials are extraordinarily effective and deliver visible results after one facial. "Your skin is firmer, glowing and radiant, with better elasticity and tone," she says. To prolong the facials' youthful effects between treatments, there's a special at-home skincare regimen that includes morning and evening serum ampoules that activate the skin's self-repair cycles.
Says Davalle, "These innovative facial treatments aren't anti-aging, they're 'well-aging,' because you cannot stop the aging process, but you can age beautifully and gracefully and we're here for it."