By Michelle Payer
In the last year, you've likely been bombarded by television and online weight loss ads. The unimagined lifestyle changes brought about by the pandemic meant many of us were spending more time at home – cooking, working, shopping, studying, home-schooling and stressing. The uncertainty overshadowing our lives was exploited by merchants as a magic bullet: Slim down! Slenderize! Melt belly fat now!
Tempting, yet we knew in the back of our minds that the road to health, beauty, weight loss and wellness wasn't a quick fix diet or starvation; it was a full lifestyle approach. Recognizing this, Acqualina Resort & Residences has again invited international health and wellness expert, Dr. Kellyann Petrucci to lead a special full-day New You retreat, Saturday, June 5, 2021 that includes a two-hour workshop and accompanying detoxifying treatments in the award-winning Acqualina Spa.
Dr. Kellyann, as the New York-based physician is known throughout the world, gained fame – and a loyal following – with her bestselling Bone Broth Diet and Bone Broth Cookbook, and her Cleanse and Reset principles she's honed over 21 years of intensive research. Dr. Kellyann says at the core, their benefits "empower participants to reduce overall inflammation, heal their gut and become natural fat-burners, as well as to smooth their skin and get strong, beautiful hair and nails." An expert among experts, she is a board-certified naturopathic physician and nutrition consultant and is one of a handful of U.S. doctors to be certified in biological medicine from Switzerland's Paracelcus Klinik.
The health expert's June 5 retreat – designed in a small-group, socially-distanced setting – is a one-day powerhouse workshop at which Dr. Kellyann "will take an in-depth look at cleansing and resetting, which is so crucial after the incredibly stressful year we've all been through," she says. "Once you become a super fat-burner, which is what my plan teaches you to do, you will keep the weight off effortlessly so there's no more yo-yo dieting." As an added bonus, she says you're going to load your skin with nutrients that keep it young, bouncy and wrinkle-free, meaning less need for topical injections.
"Participants will learn how to use food to restore, renew and re-energize themselves so they'll be better able to deal with life's curveballs," says Dr. Kellyann. "Then I'm going to discuss internal and external stresses, how these make us 'fat, bitchy and bald,' and how to deal with them effectively so that stress doesn't land on our waistlines."
The day will be divided into sections with Dr. Kellyann describing cleansing and resetting methods, along with the benefits and how-to's of bone broth, followed by a Q&A and bone broth and cleansing food tasting. In addition, Dr. Kellyann will gift everyone a copy of her Cleanse and Reset and Bone Broth Cookbook to get them started on their own healing path.

Following the workshop, participants will retreat to the elegant Acqualina Spa where they will indulge in a choice of two detoxifying treatments: either the signature Orange Blossom treatment with detoxifying Salt & Oil Scrub followed by a relaxing Herbal Poultice massage or a signature Detoxifying Algae Wrap followed by a relaxing Inner Calm massage.  The Spa's private outdoor pool with Roman waterfall and relaxation lounge will offer additional elegant areas in which to recharge and restore. The cost for the June 5th retreat is $420. For reservations, call 305.918.6844.
Dr. Kellyann gives us some essential wellness tips we can follow now:
Incorporate collagen and bone broth into your diet. (Dr. Kellyann's bone broth recipe is below.) These soothe and heal your gut and a healthy gut is essential for rapid fat-burning. They also restore your body's collagen – its structural "glue" – essential for helping you stay young and vibrant.
Pack on the protein. It builds strong muscles and balances hormones to keep you slim and healthy.
Eat non-starchy veggies. Lots of them. The more detoxifying phytochemicals the better.
Cut the carbs. Yes, this may be a no-brainer to lose weight, but it also reduces the risk of diabetes, cancer and even Alzheimer's disease.
Go "kinda keto" – 50 net carbs per day, giving you the benefits of the Keto diet without the pain.
Avoid fake food. As often as possible, buy food that doesn't have a bar code.
Dr. Kellyann Petrucci's Chicken Bone Broth Recipe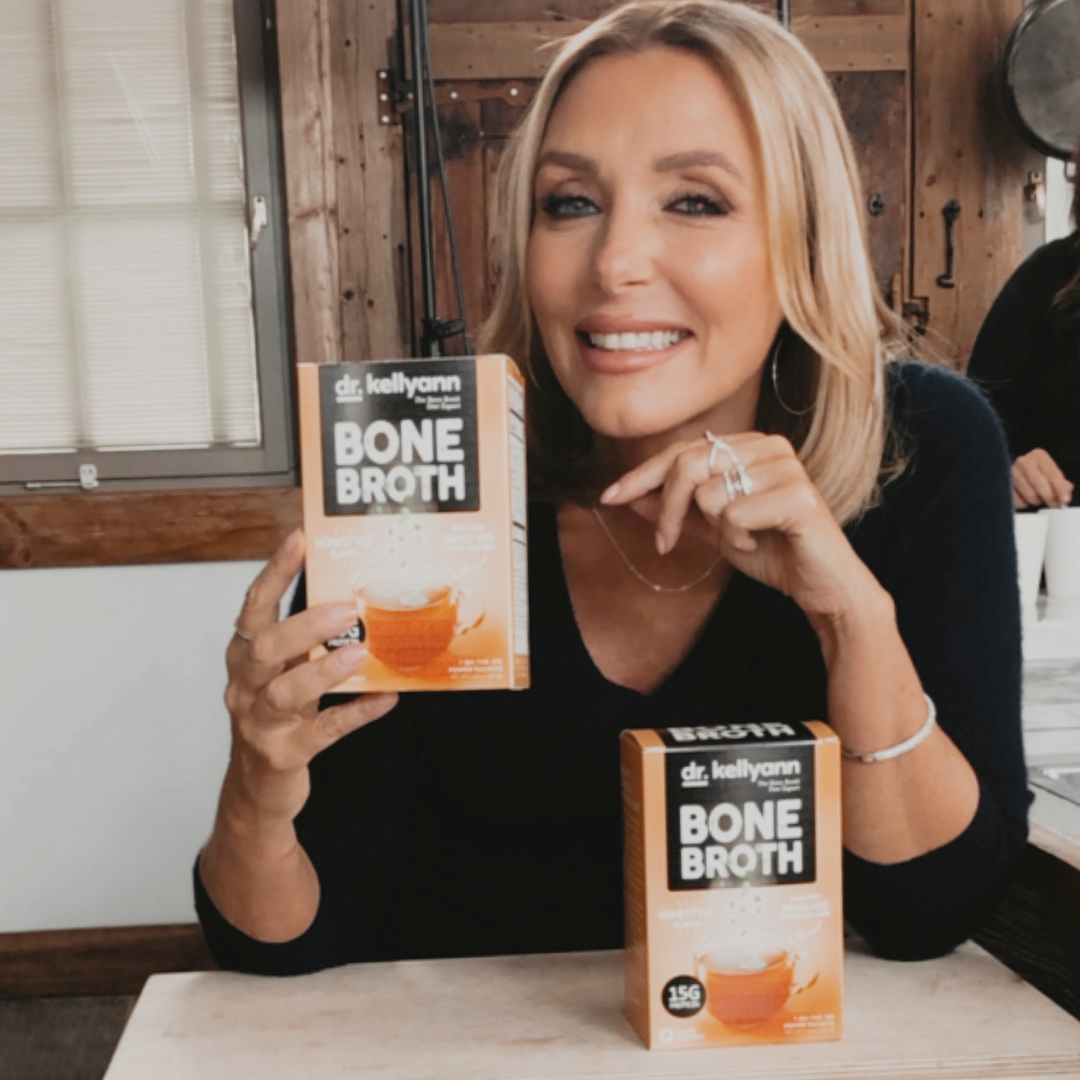 Prep time: 15 min.
Cook time: 2 to 8 hours depending on cooking mode
Yield: 1 gallon of broth
Ingredients 
-3 or more pounds raw or cooked chicken bones or carcasses
-2 or more pounds chicken thighs, legs, and/or wings
(Note: You can substitute rotisserie chickens for uncooked chicken)
-1/4 cup apple cider vinegar
-Purified water
-2 to 4 carrots, scrubbed and roughly chopped
-3 to 4 celery stalks, including leafy part, roughly chopped
-1 medium onion, cut into large chunks
-1 to 2 garlic cloves
-1 bay leaf
-2 teaspoons Celtic or pink Himalayan salt
-1 teaspoon peppercorns
Directions
Place all the bones into a large stockpot, slow cooker or pressure cooker. Add the vinegar and enough purified water to cover everything by one inch. Add all the vegetables, herbs and spices. Add more water, if necessary. Follow the instructions for the mode of cooking you choose.
On the stovetop on medium heat, bring the water to a simmer and reduce the heat to low. Cover and let simmer for at least 4 hours and up to 8. Add water as needed so the bones are always covered.
In a slow cooker, set to low, cover, and let simmer for 8 hours.
In a pressure cooker or Instant Pot, using your cooker's instructions, bring up to full pressure. Reduce the heat to low, maintaining full pressure, and cook for 2 hours. Allow the pressure to naturally release.
When the broth is done, remove all the bones and the meat and pour the broth through a fine mesh strainer into a large bowl. Discard the solids and reserve the meat for another use. (You can also refrigerate or freeze the bones and reuse them to make more broth.)
Let the broth cool completely before covering and placing into the refrigerator. When chilled the broth should be very gelatinous.
The broth will keep for 5 days in the refrigerator and 3 or more months in the freezer.